Trusted Shower Installation and Bathtub Installation Services in Cincinnati, OH
A quick shower is all it takes to feel relaxed after a hectic day. However, your bathroom shower must be functional enough to offer a tranquil experience. An old, worn-out, and out-of-date shower certainly doesn't provide this. Therefore, shower and bathtub replacements are a must to optimize your lifestyle. Our network or remodeling use the latest shower fixtures to provide an efficient and practical shower experience.
Think of a service, such as bathtub-to-shower conversions and walk-in shower installation, and our professionals can offer that. Given that bathrooms are meant to elevate ease, comfort, and convenience for you, our partners take every possible step to renovate them per your preferences.
Shower Installation and Bathtub Installation
Homeowners opt for shower installation and bathtub installation for various reasons. Maybe the old shower leaks, or perhaps the bathtub is cracked. Both installations entail professional bathroom remodeling contractors to take apart the existing shower or bathtub and replace it with a new one. It requires precision and great skill to do so effectively.
Here are a few facts about shower installation and bathtub installation.
For one, a new shower and bathtub improve the aesthetics of your bathroom. It adds to the visual appeal of your bathroom.
The latest shower models require less water and energy to run. As such, you boost water efficiency by switching to a new shower type.
Investing in a new bathtub means enhancing your well-being. Experts agree that soaking in a bathtub improves mood, alleviates muscle pain, and reduces stress and anxiety.
Although the can-do attitude of homeowners is admirable, people should invest in professional shower installation and bathtub installation for a high-quality finish.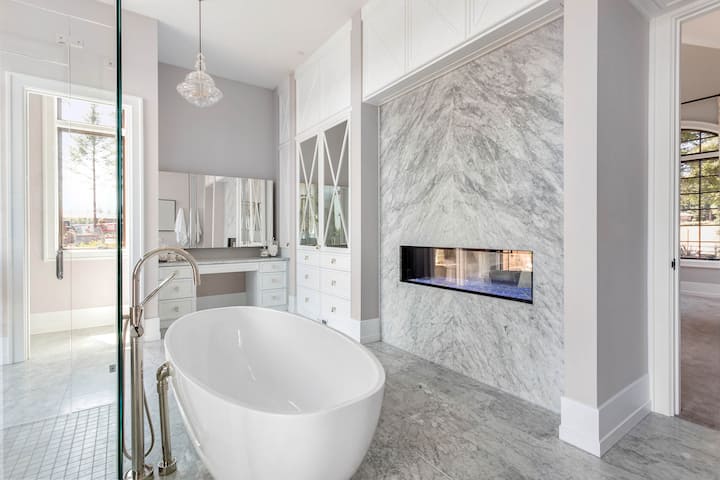 Get in Touch With Us
Let's chat about a professional bathtub or shower update for your Cincinnati home. We're excited for the chance to work with you!
Installing a Walk-In Shower
Walk-in showers typically feature a glass door without a tub or a curb. They are ideal for homeowners who do not wish to install a massive bathtub that takes up a lot of space in their bathroom. Shower installation experts begin the project by demolition and retrofitting plumbing. This is followed by installing the fixtures, shower, and tiles.
Once installed, here's what you can expect.
A walk-in shower is ideal for bathrooms with limited space. The shower stands in the corner without taking up a lot of space.
Walk-in showers are relatively easy to clean. They accumulate less grime and dirt than a bathtub.
They are suitable for people with mobility issues because they offer easy access.
Bathtub Replacements
Regardless of the material quality, bathtubs are bound to deteriorate over time. Professional bathtub installation experts follow these steps for an adequate replacement:
They begin by choosing the appropriate bathtub that fits your preferences, style, and needs.
This is followed by turning off the water supply and detaching the drain flange, overflow cover, and drain assembly.
Experts then take apart the bathtub from the surface and discard it.
The last step involves fixing the new bathtub into place.
Once mounted, here's how replacing your old bathtub will optimize your experience.
A cracked bathtub likely holds bacteria and mold that compromise your hygiene. This means getting a new one boosts your comfort and well-being.
Replacing a bathtub gives you an opportunity to make it more accessible. You can, for instance, install handicap features, such as transfer benches and handrails.
Bathtub-to-Shower Conversion
Bathtub-to-shower conversion is precisely what it sounds like. It involves replacing the bathtub with a freestanding shower. It is a win-win bathroom renovation for obvious reasons. Not only does it make your bathroom more accessible, but it also creates an illusion of a larger space. The key, however, is to hire a professional because taking apart the old bathtub and optimizing the space for shower installation is not an easy task. Only an expert knows how to transform the space for a shower. Here's how bathtub-to-shower installation may benefit you.
It increases your home's resale value due to its added functionality. Busy homeowners have less time to soak in bathtubs. As such, they prefer a convenient shower.
It enhances accessibility for people with mobility problems.
A free-standing shower complements other bathroom features and contributes to a contemporary bathroom.
Making a Bathroom Handicap Accessible
If a family member has mobility issues or uses a wheelchair, your bathroom must be practical enough to accommodate their needs. Fortunately, you can do so by investing in accessibility features.
Expand the door. Your bathroom must have a wide door for wheelchair users to pass through. A minimum width of 32 is recommended. If the bathroom is on the side of the hallway, a 36-inch door will help accommodate wheelchair users.
Invest in efficient lighting. Gone are the days of toggle switches. We're in a whole new era of rocker light switches, motion sensors, and smart lighting fixtures. They work with movements and feature voice control options for easy navigation.
Add grab bars. Horizontal and vertical grab bars offer stability when sitting down and standing up from the toilet. You can also install them beside the shower to make entering and exiting more safe.
Reduce sink height. The bathroom sink height should be no more than 34 inches.
Take Action Today – Hire Shower Installation Experts in Cincinnati!
Installing a new shower or bathtub is a great place to start when considering a bathroom renovation. It makes your bathroom more functional, spacious, clean, and safe. Our remodeling partners offers premium shower installation and bathtub installation services to ensure you get value for the money. After thoroughly inspecting your bathroom and understanding your needs and preferences, our pros take steps to improve your bathroom for the better. They replace deteriorating showers with better, highly efficient fixtures and install top-of-the-line bathtubs for a relaxing soak.
Our network aims to offer long-lasting bathtub installation and shower installation services. Our professionals also install safety features per your liking to provide accessibility for your family members. This may include expanding the bathroom door, installing grab bars, and lowering the sink height. If you have a pre-installed bathtub and seek to transform it into a stand-alone walk-in shower, our bathtub-to-shower installation entails just that.
Contact our network if you seek to upgrade your showering experience!